"Utter, complete addictivity." -ODCM
"The most fun you can have... besides crack of course." -anonymous crack fiend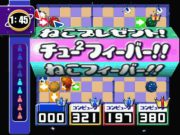 This is a game that is best described as Bomberman meets the Lemmings. If you are a fan of puzzle games, buying this game is what is called a 'no-brainer'... To steal the tagline from Othello, it takes a minute to learn, and a lifetime to master. Well, I'd rather be playing ChuChu right now, so I'm not going to waste my time writing about how much fun this game is. Just check one of the many video game related websites out there for a review. ( www.dailyradar.com , dreamcast.ign.com )
Of interesting note, ChuChu comes with Dreamkey, the web browser used in Japan. Which is cool since it can be used to e-mail VMU saves. You can also surf the web using Dreamkey, but you HAVE to have a keyboard. Just hit Alt-O to open a box, and type in the URL you want to go to.
You can find me, Bonestorm, on the ChuChu network from time to time. If you see me, make sure you play me `cause I'll whoop you silly... (who am I fooling...)
I also have a few select puzzles located in my Puzzle Land Room B-01 under Bonestorm. If you are looking for a good challenge, check them out. If you are stuck, you can get the solutions here.
Remember, ChuChu can be confusing at first, just hang in there. Or check out my ChuChu hint page here. Now... What the hell are you still doing here? Go and PLAY!!
94 Bones (out of 100).

Download new character sets!
If you ever noticed, in the options menu of ChuChu (under general settings) you can change the mice/cats in ChuChu into other things. The '?' have to be earned (by beating all 100 puzzles and by beating all 25 stage challenges), but 'download' you download! Just go to the ChuChu Homepage (from inside the game). There you will find links to download files to change your mice into cows, and cats into flying saucers!!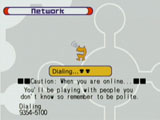 I can't play Online...
Don't worry, ChuChu is a lot of fun offline with a group of friends... If not more so...

If you are having trouble connecting to the internet to play ChuChu online, check out dreamcast.ign.com for help. The main thing is too make sure that the DC is set-up to work online in the first place. You do this by putting in your web browser, and setting it up through the options found there. Also note that you MUST enter an e-mail address in your web browser's settings. Even if it's not real, ChuChu just uses this to help identify you when connecting to the server.
Play ChuChu Rocket Puzzles on a PC!
If you would like to see what the Puzzle mode of ChuChu is all about, check out Sega's ChuChu page. This is a Shockwave version of the game that has the first 30 puzzles for you to figure out. Remember, that the heart and soul of ChuChu is still the multi-player mode...
Have your own Puzzles?
Do you have your own home-made ChuChu puzzles? If so E-Mail me ( bonestormer@hotmail.com ) with your ChuChu alias, and where your puzzle room is located. I will try them out, and post the location of the best ones here.